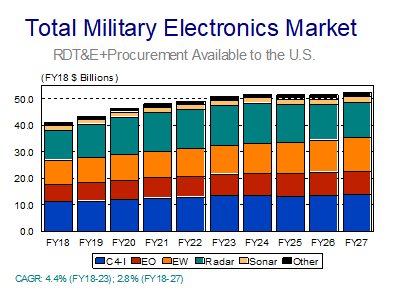 Teal Group's Military Electronics Briefing Market Overview forecasts the military electronics market available to U.S. manufacturers will rise steadily with a 4.4% CAGR over the next five years (FY18-FY23), while new-platform procurements will continue to decline over the next decade. Teal Group forecasts a $486.1 billion total military electronics market from FY18-FY27.
Teal Group's Market Overview forecasts are built from the bottom up, from dozens of cumulative individual MEB program forecasts in each market sector (hundreds in the overall market), not top down from Pentagon R-1 (RDT&E) or P-1 (Procurement) lines, which rarely break out electronics programs.
The largest defense electronics market sector over the next ten years will be the Radar market, closely followed by the equally huge C4I (Command, Control, Communications, Computers and Intelligence) market, followed at increasing value intervals by EW (Electronic Warfare), EO (Electro-Optics), and Sonar.
With multiple major new planned programs for air, ground, and naval systems, and new uses anticipated for legacy systems, whether in the Asia-Pacific region or for fighting better-equipped and near-peer opponents such as ISIS and Russia, Radar and C4I systems and capabilities will continue to grow in importance. Our near-term Radar market growth rate forecasts are still increasing – up to a whopping 6.1% CAGR from FY18-FY23 – only leveling off in the out-years (and the final years of our forecasts are more speculative and could certainly see additional new programs and funding).
Using radar and other sensor data, networked ISR (Intelligence, Surveillance, and Reconnaissance) and the importance of inter-connected electronic systems will offer constant new C4I opportunities, both for established defense primes and new electronics sub-contractors.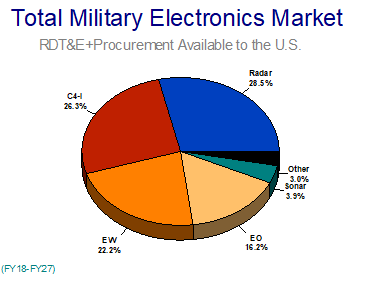 Electronic warfare, also increasingly vital for today's high-tech wars, will also continue to grow, but key programs may still be cut or delayed as is traditional for EW's under-appreciated role. EW offers many of the best new programs for both growth and value, but any new budget may shake loose and kill EW programs in the traditionally low-hanging fruit EW market.
Although the threats have changed since the Cold War, intelligence, protection, and connectedness will continue to grow along with direct shooter electronics over the next ten years. The mature Radar and EO markets will both remain large, with substantial CAGRs. But the high near-term growth in both these markets is somewhat deceptive, as recent years have seen funding lulls following the completion of many wartime programs for Asian wars. EO especially is now still growing from this low point. Radar's near-term growth will be due to a number of new production programs such as UAV synthetic aperture radars (SARs).
Radar Market Forecast: $138.4 Billion (FY18-27); 6.1% CAGR (FY18-23)
The mature radar market will see growth in most segments, with minor shrinkage only in out-years manned airborne SAR (Synthetic Aperture Radar) and AEW&C (Airborne Early Warning & Control) funding. Some airborne radar segments – including fighters and AEW&C (think AWACS and E-2 Hawkeye) – have already shrunk, but new programs suddenly promise solid growth again. A surge of active electronically scanned array (AESA) antenna retrofits should bridge the fighter radar lull as JSF production ramps up. And, following the recent concentration on ISR of ground-based targets, the U.S. will in the future focus more on the near-peer competitor China, providing new justifications for improved fighter sensors, long-range detection, and airborne command and control.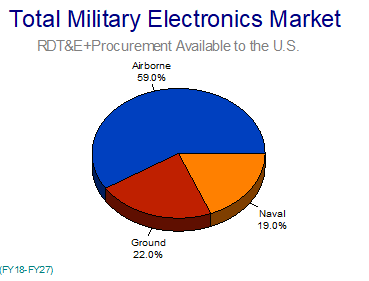 The ground radar market will remain low-growth, following our withdrawal from Asian ground wars, despite continued BMDS (Ballistic Missile Defense System) funding.
The naval radar market shrank steadily for a few years, but we think the low point in the market has been reached, with sporadic growth forecast from here, but funding totals will remain less than they were a few years ago. More than 50% of total naval radar funding will continue to go to one program – Lockheed Martin's AN/SPY-1 Aegis for more than 100 cruisers and destroyers – until Aegis is overtaken by Raytheon's new AMDR & EASR radars next decade.
C4I Market Forecast: $127.8 Billion (FY18-27); 3.5% CAGR (FY18-23)
The Command, Control, Communications, Computers, and Intelligence (C4I) market will grow steadily over the next decade, as network-centric warfare and U.S. doctrine focus increasingly on making sensor and other data available to all. There are many possibilities here, across the board, for nearly all major sensor programs – there are many options.…
The two biggest coherent market segments will be data links (much airborne) and – at least for the moment, as smart phones are giving them a run for their money – tactical radios (primarily ground), although we see the likelihood of declines in the tactical radio market. One area that requires all-new equipment and capabilities is ground sensors and C4I; this is the realm of the War on Terror, and Cold War systems are not adequate (while they remain over-qualified at sea and air).
Electronic Warfare (EW) Market Forecast: $107.8 Billion (FY18-27); 3.4% CAGR (FY18-23)
Strong growth in signals intelligence (SIGINT), airborne infrared countermeasures (IRCM, vs. infrared-guided missiles), and ground and naval ECM (electronic countermeasures) will lead solid growth in most electronic warfare (EW) market sectors, though some previously promising markets may see a decline or delay.
The airborne market will dominate, earning more than 75% of prime contract value, and airborne EW will be the single largest market segment of any in all our electronics forecasts, to a significant degree dependent on JSF production. Radar warning receivers (RWR), missile warning systems (MWS), RF ECM (radio frequency electronic countermeasures), and RF decoys are all mature market segments.
EO/IR Market Forecast: $78.5 Billion (FY18-27); 5.1% CAGR (FY18-23)
Electro-Optical (EO) sensor markets rose steadily for several years through last decade, as a number of major programs entered full-rate production following years of delays. When supplemental procurements for the wars in Iraq and Afghanistan ended, the biggest market surge was over. But our forecast short-term lull has now ended, with the next generation of airborne systems, such as on the Joint Strike Fighter, ramping up. Continuing steady growth in UAV EO (especially mini/nano-UAVs and UCAV) will probably be the fastest-growing market sub-sector aside from JSF.
EO is a mature market, but new areas have developed, especially for the war on terrorism, to detect and counter irregular opponents: networked ground sensors, UAVs, wide-angle digital sensors, hyperspectral, and naval sensors. There will be billions spent for sensors, and hundreds of millions for related C4I.
Sonar Market Forecast: $18.9 Billion (FY18-27); 0.9% CAGR (FY18-23)
Airborne dipping sonars and sonobuoys will retain their importance as the U.S. Navy operates more often in shallow water environments, and helicopters will play an increasing role as ASW (anti-submarine warfare) assets.
The airborne sonar market sector grew quickly as AN/AQS-22 ALFS production ramped up, but with ALFS production now tapering off, the market will decline.
The ship and submarine sonar market should remain more stable, buoyed by the growth of Lockheed Martin's dominant AN/BQQ-10(V) Acoustic-Rapid COTS Insertion (A-RCI) program; this open-architecture sonar system is already being procured for all U.S. submarines. A-RCI for submarines alone will contribute fully half of the naval sonar market available to U.S. suppliers; if A-RCI evolves into a configuration for surface platforms, it would become the world's dominant sonar program, much like Lockheed Martin's AN/SPY-1 Aegis system still dominates naval radars.